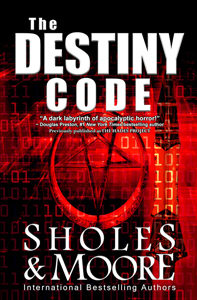 New from Sholes & Moore! THE DESTINY CODE.
Available in print & ebook. 
In her most crucial mission to date, Cotten Stone must stop the Forces of Evil by locating an ancient artifact known as the Spear of Destiny. It was forged by Adam's seventh generation grandson, used to pierce the side of Christ at the Crucifixion, and possessed by some of history's most powerful men—Constantine, Charlemagne, and Adolf Hitler. Her immortal enemy has unleashed the Hades Project, an unholy cyber-attack meant to cause global anarchy. Cotten races against time to find the relic which holds the key to the Destiny Code, the only thing that can stop the Forces of Evil from capturing the soul of every man, woman, and child on Earth.
"An exceptional novel, a dark labyrinth of suspense, international intrigue, and apocalyptic horror." -- Douglas Preston, #1 New York Times author of THE LOST CITY OF THE MONKEY GOD